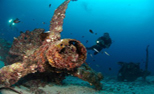 Lissenung Island Reef:
Surrounding about 2/3 of Lissenung Island, this reef is an ideal spot for macro photography and for night-diving. You may encounter Seahorse, anemones with Clownfish, Crocodilefish and hundreds of other species. Off the island is also the wreck of a yacht, which was sunk several years ago.
Echuca Patch:
This is a large ridge rising from 45 m to within 12 m of the surface and lying in the open water about 20 minutes from the resort. A Korean fishing boat, the "Der Yang", lies on its starboard side on top of this ridge. This point is a magnet for Barracudas and Jacks.
Stubborn Hellion:
This is an American B 25 Bomber (Mitchell Bomber), which was shot down in 1944 by the Japanese army during the battle around Kavieng. This plane sits in 12 m of water, half way between Lissenung Island and Albatross Channel.
Albatross Channel:
A narrow channel between two islands, 25 minutes from Lissenung, this passage sucks pelagic and reef fish between and into its narrow flanks twice a day as the tide rushes in and out. Eagle rays, Mantas, Tunas, Barracudas and reef sharks can be seen. But not only big fish are here. Overgrown with big fans, black corals and sponges, this wall is a perfect hiding place for small critters like nudibranchs and the Pygmy Seahorse.
Baudisson Bay:
A vertical wall rising from 400 m up to the surface with several swim-throughs and crevices. Some people call it "Nudibranch city", and a large family of Lionfish is also living here.
Peter's Patch:
20 minutes from Lissenung Island, the southern end of a big reef attracts large schools of Jacks and Barracudas. Grey reef sharks are seen on almost every dive.
Helmuts Reef:
In the middle of Steffen Strait, the main shipping entrance into Kavieng, lies this little reef. Covered with big fans and sponges you will see big Mackerels and reef sharks. The top which comes within 7 meters to the surface is covered with beautiful hard corals.
Planet Channel:
The western part of this channel is called Eagle Ray Passage, and with a strong incoming current there is a very high chance to see schooling Eagle Rays. The main channel is covered with black corals and fans and is home for Jacks, Barracudas and sharks.
Mitsubishi "Jake":
This Japanese plane wreck from WW II sits upright in a depth of 10 m and is covered with corals and anemones. You also can see Pipefish and Cuttlefish around it. Situated in the lagoon between New Hanover and the Tsoi Islands, it is a beautiful trip of 35 minutes from Lissenung Island.
Turtle Reef:
This beautiful coral garden in the middle of the open sea, about 40 minutes from Lissenung, is famous for its turtles, which are attracted by a certain type of sponge. Also large pelagic are often seen.
Silvertip Reef or Valerie's Reef:
One hour 15 minutes from Lissenung, just off the coast of Tsoi Island, this reef is known for its big Silver-tip sharks, which come very close to the diver. Here everyone is able to have a real close look to this fantastic creatures.
Big Fish Reef:
This reef got its name, because it is sometimes visited by whale-sharks. But the real attraction are the beautiful corals and the schooling Barracudas, Jacks and Bat-fish. Ten minutes away from Tsoi Island, this reef is located in the middle of the deep ocean.