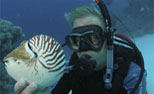 Barracuda Point/Punt'i Piku:
ood-sized barracudas will sometimes follow you at a distance on your dive here, because you have invaded their home turf. Don't be concerned, they are just curious. Barracuda Point, also called Punt'i...
Basora:
Elegant Chinese pagoda shapes perch on the wall as you dive into the depths at Basora. A site with as many species of coral and fish as you are likely to find in one place, Basora is the most eastern dive...
Airplane Wreck:
There are several dive sites you can reach at Santa Martha from the shore and many sites nearby which can be reached by boat. Straight out from the breakwaters there is a marking buoy, which identifies...
Black Rock/Piedra Pretu:
strong>If you suffer from seasickness, you have two choices on this dive— don't go, or take non-drowsy, seasickness medication to ease the trip. Black Rock, also called Piedra Pretu, makes a spectacular wall...
Daaibooi:
Fisherman shoot the breeze at one end of the beach and work on their boats, while visitors of the beach enjoy barbecues and calm water at the other end— a typical Curaçao beach scene. Daaibooi beach...
Light Tower:
A spectacular, exciting dive adventure. Divers looking for real adrenaline pumping dives will enjoy this one. Not for the faint at heart, because the Light Tower site is accessible only by boat and recommended...
Halfway:
Picture perfect backdrop for a relaxed, easy dive or snorkel. Beautiful, clear turquoise water with steep cliffs towering behind, create the atmosphere at this sheltered spot only accessible by boat because...
Harry"s Hole:
Large stands of stately elkhorn coral greet you as you swim out from shore towards the reef. Home to many small reef fish and creatures, they are certainly worth some exploration. As at Airplane Wreck,...
Klein Curaçao:
Divers, snorkelers and sun lovers who have always dreamed about being marooned on an uninhabited, desert-island will really enjoy the day trip dive operators and boat charters offer to Klein Curaçao....