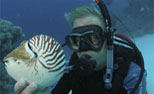 Roca Partida
meaning 'split rock', is a small pinnacle that rockets up from the sea floor from below 80m depth, approximately 40 km west of Socorro. The topside scenery and scent, combined with the incredible underwater action, have led many to compare the scuba diving here to Wolf and Darwin islands in the Galapagos. For some, Roca Partida represents the best spot in the Revillagigedos Islands and is an essential part of the Socorro diving experience. It is a magnet for pelagics like wahoo, marlin, Giant Pacific manta rays, tuna and mackerel. Oceanic whitetips, scalloped hammerheads, Galapagos sharks and whale sharks are among the shark species seen here. Dolphins and humpback whales are also regularly sighted. The list of possible encounters sounds like a "who's who" of marine heavyweights.
There are vertical walls dropping down to 80+m and often strong current is present. However, it does not represent too much of a challenge to the experienced diver. The pinnacle itself is quite small (about 70m by 20m) and can be circumnavigated more than once if that is how you choose to dive it. Alternatively, you can swim away from the walls to take get closer to the passing pelagic action and improve your chances of seeing the schooling hammerheads.
San Benedicto
This is the third largest in the Revillagigedos group and is often the first place to be visited on liveaboard diving trips to the Socorro area. You may see many of the same exciting creatures as at Socorro Island. However, San Benedicto is known throughout the world for the quality of manta ray encounters which divers experience here. This is not just a quick glance at a passing manta ray or two but a series of prolonged and intimate interactions with several giant Pacific manta rays. These majestic creatures come to this area to be cleaned by the colourful Clarion angelfish (Clarion Island is one of the 4 Revillagigedos islands).
The most highly rated dive site at San Benedicto can be located at the surface on the west side of the island by sighting the swell and surf that looks like the sea is boiling. When you see this you know you have arrived at The Boiler.
The Boiler features a beautiful stepped pinnacle which rises from a base of around 50m to within 6 or 7m from the ocean surface. Most of the beauty at this site is within 30m depth so there is no need to dive very deep. Certainly you do not need to go too deep to experience some unforgettable encounters with giant Pacific manta rays. Since this is a cleaning station where hungry Clarion angelfish nibble parasites of the grateful mantas' bodies, you can see many of them gathered here. They seem to almost welcome the presence of scuba divers, and might swim very close to come eyeball to eyeball with you. They also clearly revel in the sensation of divers' bubbles rippling up against their bodies. If they came for the equivalent of a spa scrub from the Clarion angelfish then you are providing a gentle bubble massage.
Other marine creatures are also drawn to this cleaning station. Dolphins are often seen by scuba divers , harassing the schools of bigeye jacks and feeding on the schools of creolefish, needlefish, chub and rainbow runners. Large numbers of bicolor parrotfish gather here too at certain times of the year, to spawn.
You might also see silky, tiger and whale sharks, and maybe even humpback whales, if you are particularly lucky. Even if you don't see one, the whale song can provide an auditory backdrop to your hole dive at The Boiler.
Beware not to be drawn in to the flat shallows above this 60m wide pinnacle. Here the ocean swells can create strong surge which can be highly dangerous.
Sharks are more the order of the day at The Canyon with healthy numbers of silky, whitetip reef, Galapagos and hammerhead sharks being the most frequently sighted. While the silkies and Galapagos sharks may travel solo or in small groups, the hammerheads can be present in vast schools. There are also swirling clouds of reef fish cascading up and down the slope, and always a chance of a passing pod of dolphins, making it a great site for photography. Conditions are optimal when the current is strong and running from the east towards the chain of rocks that run th away from the island. Here at a depth of 25m is a hammerhead cleaning station and the nutrients that are pushed in with the current attract wahoo, tuna, black jacks, blue trevallies, and of course sharks. The rocks also host giant morays, redtail triggerfish, scorpionfish and yellowtail surgeonfish.
Socorro
Indicated on the surface by a thin finger of rock stretching out from the east coast of the island, Cabo Pearce is a reef that extends out into the prevailing current. There is often a lot of dolphin activity here and a pod may greet your liveaboard dive tender and entertain you before you even hit the water. Few places in the world offer experiences with dolphins like here, which are far from fleeting. Here they may hang around to see you entering the water and dropping down and could stay in the area for your whole dive, their playful clicks and squeaks dancing through your ears, when they are not directly in sight. One way to dive this Socorro site is to descend and nestle among the rocks, protected from the strongest of the current. Here you await the majestic sight of a huge school of scalloped hammerheads, weaving their way into view. Silky sharks are also not uncommon here, particularly later in the day. You have a strong chance to be entertained by several playful manta rays at Cabo Pearce and, if you are in the right time and right place, a humpback whale might even ease its mighty bulk into your field of vision.
Roca O'Neal, a.k.a O'Neal Rock, a.k.a Hammerhead Central is, as you might expect, a great place for sighting scalloped hammerhead sharks. You will not forget the first time that a school of hammerheads appears before you, weaving their way into the current and slowly you realise that there is not just 1 or 5 or 10 but probably more than you can count as you gaze out from the rocky slope in slack-jawed wonder.
There is a plateau at 10 to 12m where you can spot smaller creatures including lobsters and various little schools of reef fish. The plateau gives way to an interesting cavern which is one of Socorro's few photogenic topographical features. Although sometimes called Hammerhead Central, shark lovers also stand a good chance of encounters with other species such as Galapagos sharks, grey reef sharks and silky sharks.
Located on the south west coast of Socorro Island is Punta Tosca, the largest coral reef in the region. 3 lava flow fingers cut across the reef, extending out 120m from the sea surface down to 22m deep. It is another site where the chance of long and intimate encounters with dolphins is strong. Interacting with these clearly intelligent and adorable marine mammals is something that never gets old. Even if you see them on every dive, they are always most welcome.
It is also a site with a fine reputation for underwater encounters with humpback whales, at the right times of the year. If encounters with dolphins are charming and entertaining, then coming within close range of one of these huge mammals is nothing less than stunning. This is one Socorro dive site where anything can happen, and when something does it is usually unforgettable.
Tiger sharks, although not the most common species in this water, are regularly seen and Punta Tosca is one of the best places for them. Wonder is mixed with a fair degree of respect, indeed caution, when there is a tiger shark in the vicinity. Other sharks often spotted here include Galapagos sharks, silky sharks and silvertips, as well as turtles, torpedo rays and lobsters. The protected reef is a nursery for several oceanic shark.