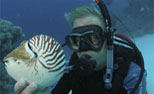 Guadalupe Island (Mexico)
is the top destination for great white shark encounters. This small volcanic island located in the Pacific 240 kilometers (150 miles) off the west coast of Mexico's Baja California peninsula outperforms both South Africa and Australia with shark-seeing consistency and watching conditions. Only Guadalupe Island can boast shark viewing in beautiful clear blue water with 125 - 150 foot visibility. We recently identified 172 unique great white sharks in the bay where we stage our double decker submersible cage diving operations which guarantees unforgettable encounters.
We offer a rich and natural experience
of shark encounters on these trips by descending down to 30 feet where great white sharks naturally spend their time. We don't need to use chum at depth; the sharks are already there. We have seen up to six great whites at once circling the cages. Without chum these great whites are more relaxed, exhibit MUCH more curiosity, and come in MUCH closer to the cages. Best of all, our cages are double-deckers, which means you can venture onto the upper deck and outside the bars to truly go face-to-face with great white sharks out in the open. It is an unforgettable rush when a great white looks at you from 50 feet away and then swims over for a very close look.
For your safety, all diving is done using a hookah system - otherwise known as surface supplied air - and our custom designed double decker cages. These cages are designed to provide maximum protection for you AND for our sharks. It is vitally important that the sharks are never affected or injured during their interaction with us. For your additional safety, each cage is equipped with backup sets of scuba gear for each diver in the exceptionally unlikely event of a problem with the hookah system. The cages are normally entered and exited through an upper hatch but there is also an emergency escape hatch painted red if needed. This hatch must remain closed during normal operations
Mexican park regulations require that you stay within the cages at all times including keeping your arms, hands and cameras inside. Feeding the sharks and the use of camera strobes and lights is strictly prohibited. Please do not contaminate the beautiful clear blue waters of Guadalupe with suntan lotion or any other contaminants.
You will be accompanied by one of our divemasters on all dives for your safety and to increase your chances of shark sightings. You should be ready and dressed in your wetsuit 10 minutes before your scheduled cage time. We recommend DUI weight harnesses and approximately 40 lbs of lead depending on your weight and type of wetsuit. Please see any of our divemasters for assistance. Note that a 5 - 7 mm wetsuit is usually adequate to keep you warm but we do have hoods, hooded vests and extra gloves available for loan if needed.