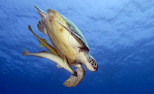 Lekuan I, II and III:
Often referred to as 3 different dives sites, this area is one of those sites that typify why Bunaken scuba diving is such a dream for many divers. Excellent as a day or night dive, this site has some of the superb, healthy and varied coral that makes diving Manado truly memorable and against this colourful backdrop you can see turtles, Napoleon wrasse, tuna and plenty more.
Black Rock:
Also known as DJ Point, this site offers a break from Bunaken's trademark wall dives. Instead you need to poke around a series of rocky patches to uncover this Manado dive site's underwater marvels. With a little patience you can spot all manner of macro delights including cuttlefish, leaf fish, pipefish, commensal shrimps and candy crabs.
Celah Celah:
his site is a favourite site for photographers diving Bunaken, thanks to the sheer, fissured wall from which sprout innumerable fans and sponges in a range of bright colours. Sunlight beams down in shafts through the deep fissures adding interesting light to the vibrant scene. Look out for pygmy seahorses and ghost pipefish plus a wide range of nudibranchs. Occasional glances over your shoulder into the blue can allow for sightings of dogtooth tuna, eagle rays and blacktip sharks.
Mandolin:
...tops out near the surface, with a wall that is alive with fishes such as fusiliers, surgeon fish, unicorn fish and bannerfish. Mandolin is named after the same traditional musical instrument due to its shape from a bird's eye view. Small schools of Reef Fish, Angelfish, Bumphead Parrotfish and Gobies are there for your enjoyment. Not to forget the groups of large sized Barracudas, together with different colors and types of sea fans. In the deeper part, there is possibility to see Blacktip Reef Sharks.
Bunaken Timur:
This area of Bunaken is always protected from the big thunderstorms of the bad season, and it permits an unusual growth of many species of hard and soft corals. This is the point with the highest coral biodiversity all around the area. Spectacular also for snorkeling, if you are lucky can spot also turtles and eagle rays swimming in the blue.
Muka Kampung:
It is located exactly in front of the village of Bunaken. Strong current are prevailing in the area caused mostly by the location of the site. However, it is an interesting drift dive to cover a lot of area. Numbers of large Sea Turtles are common residents here. The site itself is well decorated with hard and soft corals along the wall with some overhangs and crevices where the small critters will draw your attention. School of Jacks and Barracudas can easily to be found as well as humphead parrotfish, napoleon wrasse and big Dogtooth tunas patrolling along the reef. The top of the reef is a perfect place for the safety stop, with depth around 4-5 meters.