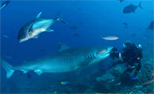 Coral Gardens
Nicknamed Nirvana and only a few minutes by boat from the Resort, this is one of our best dive sites. Three fingers of lava once streamed into the ocean and are now covered with a variety of hard and soft coral species. Rays, sharks and big schools of barracuda are the keepers of the Coral Garden. Schools of trevally, snappers and tunas abound. It's an overdose of everything.
Annies Bombie
A submerged reef with many big coral bommies including the large 'Annies Bombie'. Weave through the coral and enjoy the schools of fusillias, bandits and anthias – and the occasional leopard shark
Great White Wall
The soft coral capital of the world's signature dive offers an astounding wall of pure white soft coral. This site is definitely the world famous Rainbow Reef's top draw. A coral encrusted swim – through leads onto the wall from the reef top. A dazzling myriad of color and life inhabits the reef top. Manta rays glide past with ethereal grace. On exiting the water from this site an awed silence lasts awhile before an excited chatter that lasts for days starts among divers. Not to be missed!
Purple Wall
This is one of the truly stunning sites on the Rainbow Reef. It deserves its billing as one of the worlds top dive sites. A solid wall of purple soft coral and more species than can be counted. You will not want to leave!
The Zoo
An extreme marine experience! Schools of Barracuda are common here, swimming above the White Tip reef sharks resting on the sand. Moray Eels, Groupers and small reef fish are plentiful and lucky divers will glimpse the graceful bronze whaler sharks patrolling the deep blue waters.
Steve's Corner
This dive site reveals a huge variety of soft corals feeding in the current. Turn the corner and come up shallow to enjoy a large archway swim-through guarded by the resident anemone fish and filled with Ghost Coral. Sharp-eyed divers will also spot the juvenile blue ribbon eels here.
Orgasm
Vuna Reef at its finest! This wall dive faces open ocean and it is here that we have seen some of our favourite regulars: sharks, rays and napoleon wrasse. Drift by schools of spanish mackerel or giant tuna from the deep. All this in only 60f /18m, a truly awe-inspiring dive site that never seems to disappoint us.
Fish Factory (Vuna Reef)
Stunning hard plate corals, lots of ambient light, multicoloured patches of soft coral, giant clams and swarms of reef fish at a depth of less than 60f/18m make this a popular site for photographers, beginners and experienced divers.